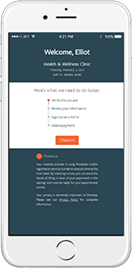 WHAT TO EXPECT
As appointment times approach, if you have a mobile device you may receive a reminder notification and be prompted to fill out paperwork via text message or email. You will be able to verify your insurance coverage, check-in and even pay all remaining balances even before coming into our office for your appointment. With less paperwork to sift through, clinic staff and physicians can focus on delivering personalized care to patients.

The system is held to the Payment Card Industry Data Security Standard (PCI DSS), is registered as an approved solution with Visa and MasterCard and uses top encryption and security technology to protect your financial information. Your credit card information will never be saved in the system, and staff members will also only be able to see the last four digits of your credit card number to ensure the data is unusable in the event of a breach. The new electronic check-in system meets the strict security requirements of the healthcare industry to ensure patients are protected. All the information you enter is private, secure, and never stored in a physical location.
Patients are automatically notified when their appointments are scheduled.

Patient receives an email or text prompting them to pre-register for their appointment

Patient completes COVID-19 screening and registration on their personal device

Patient is instructed to call the facility upon arrival and to wait in their car until their provider is ready to see them

Staff texts patients from the Phreesia Dashboard when its time for them to come in and lets them know where to go
EVERYTHING YOU NEED TO KNOW ABOUT TELEMEDICINE VISITS (VIRTUAL APPOINTMENTS)